It was my friend's 30th birthday celebration with a cartoon character theme. Since I didn't have any costume ready, I just made use of borrowed and some owned resources to create my look.
I decided to go as Minnie Mouse since it's one of the easiest characters to dress up as =)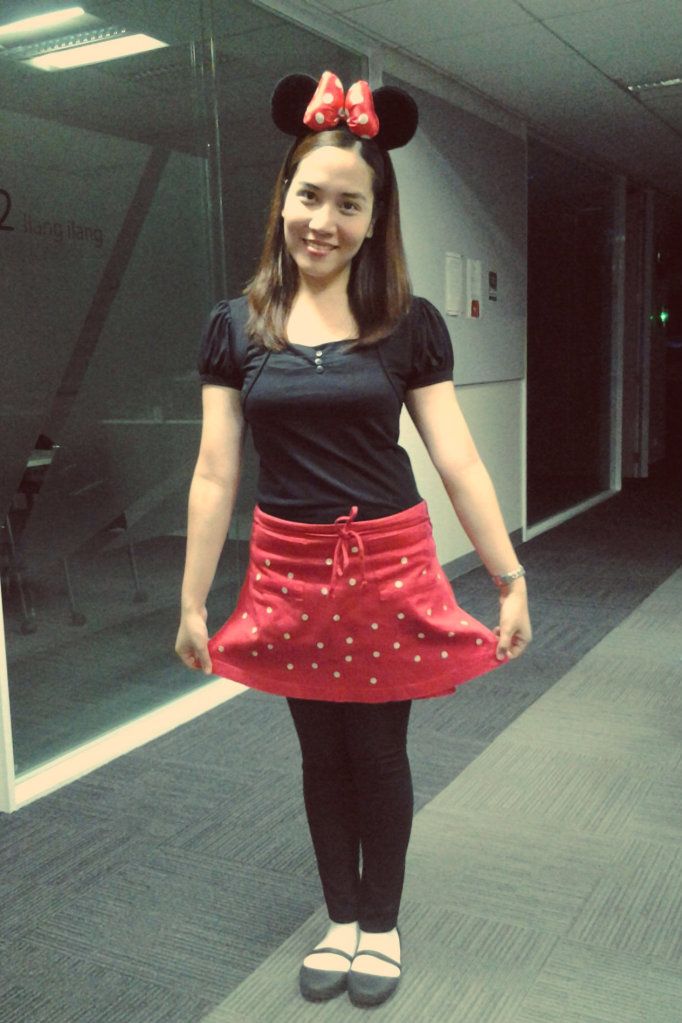 To get the look, you would need:
A Minnie Mouse headband from Disneyland HK (borrowed from Bessy)
But since it's hard to find one, I just improvised. =)
From a plain red skirt which I bought for P100 from ukay, I added white dots by using masking tape. I used a drilling gauge to draw circles and I cut it out one by one. After the party I just have to remove the dots so I can use the skirt =P
White Socks and Doll Shoes
Minnie mouse wore yellow shoes but I just put on doll shoes to get a childish look haha.
Minnie Me
With the birthday boy -- who looks 18
With Annie/Goldilocks
With other kids at heart
The night was filled with super naughty and super fun games. I was laughing so hard because the hosts (including the celebrant) were hilarious! Too bad I left early and I missed a lot of funny moments.
Lucky for Chris, he does not look 30. I think his jolly personality sustains his high energy and that subtracts the years from his real age. I guess the true secret to look and feel young is by being happy. You would no longer need beauty creams nor plastic surgeries just to keep your youthful glow. A happy heart would truly reveal itself with how a person looks. It's a natural anti-aging treatment which is really effective. Happiness doesn't stop the age but it could slow the process of aging. So stay happy and don't count the years =P
Happy Birthday Chris =)